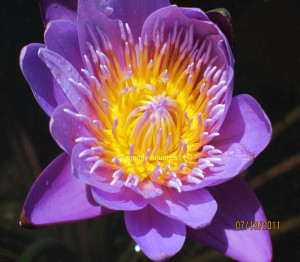 It won't be long and summer will be over.  I already notice a difference with the days getting shorter.  It has started to cool off some from the hot weather we've been having.  All is doing well in the pond and it won't be long and the garden will be finished.  I canned the first of the tomatoes last week ending up with about 27 quarts so far.  I'm sure tomorrow I'll be able to add to that.
Finding more time now to do other things since the pond season is starting to slow down.  There is little time during March, April, May and June, but then July things start to slow some.  I notice the waterlilies seem to have to slowed down but when they do bloom are still wonderful.
Enjoy why we can......the tropicals are the first to go.