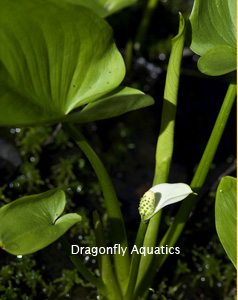 Arrowhead plants are one of the easiest pond plants to grow.  Whether in your natural pond, water garden pond or container water garden, they contribute much to the landscape with their clean, geometric foliage and delicate small white flowers.  These pond plants are highly recommended for your pond edge.   They require Sun to Part Shade and will tolerate cold temperatures. Hardy Zones 3 to 11.   Arrowhead plants like water depth from moist soil to 2 inches overall, but certain varieties will tolerate deeper water.
Their clean, geometric foliage and delicate white tiny flowers contribute a nice focal point to your water feature.  Named for the  shape of their leaves, arrowheads are easy pond plants to grow at the pond edge.  The foliage may be narrow or broad, depending on which arrowhead you select, some even having lobed leaves.  Their flowers appear first in June and reoccur throughout the summer. 
The most common is the Arrowhead ( Sagittaris latifolia).  It has arrowhead shaped leaves and produces a tiny white flower with yellow centered blooms and grows 12 - 20 inches high with a running spread.  Hardy zones 3-11.  The common arrowhead can take deeper water depth.  Anywhere from moist soil to water 6 inches or more deep.  Its leaves will even grow submerged.
Double-flowering Arrowhead (Sagittaria japonica) is very similar to the common arrowhead but produces a double white flower, resembling a tiny white rose.  This plant grows to 2 ft tall.  Hardy zones 3-11. 
"Silk Stocking" Arrowhead (Sagittaria aistralis 'Benni") has striking, variegated maroon leaves.  Clusters of tiny white, yellow centered  flowers appear throughout the summer.  It will grow to 2 ft. tall.  The new growth of this arrowhead appears red and the older foliage looks smokey with a red overlay.  Hardy in Zones 5-11.
Variegated Arrowhead (Sagittaria graminea 'Crushed Ice') is a distinctly variegated leaf.  It has cream white blotches on each slightly twisted leaf and blooms white flowers in clusters with yellow centers.  Grows to 12" to 24" tall and is hardy in Zones 5-11.  It will grow in most soil to submerged in up to 5 ft. of water.  A very striking plant. 
Arrow Arum (Peltandra virginica) isn't an arrowhead but is very similiar. The plant forms a dense clump as do the arrowheads.  Grows to about 24" high and can spread to 24" wide.  A very light green to white flower will appear resembling a jack-in-the-pulpit. It takes moist soil or water to 6 " deep or more in sun to part shade.  Hardy Zones 5-9.  Shown in picture.
Purchase arrowhead,crushed ice,arrow arrum, here.