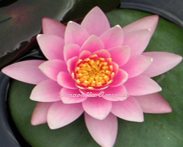 'Aurora'  hardy water lily is an ideal smaller water lily for tub, containers or small ponds.  This is also a great small lily to put into a stream or bog area as long as there isn't splashing of water.    Attractive purplish and green leaves give this lily a stunning look.  The buds appear cream colored and open to yellow flowers, then turn through colors ending in red.  This transformation takes place over several days so a number of different colors may be seen at the same time.  A truly remarkable water lily.   Place the lily 12-18 inches below the water surface.  It will spread approximately 12-24 inches.
Propagation:  By division of the established crowns during the growing season.  You can replant them right away in their own container and grow more plants.
Buy Aurora, Hardy Water Lily here.