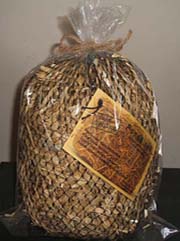 Barley is a natural approach to eliminating string algae, improving water clarity and naturally balancing pond water. Barley is one of the few pond additives that will work at any temperature.
Barley is available in three different forms. The Barley bale, once placed in your pond, will slowly decompose and as it does so, it will release gases that aid in the elimination of string algae. One 8 oz. bale will treat an 800 to 1200 gallon pond. It will take several weeks for the barley to start decomposing and will continue to work for about 3 months. Microbe-Lift Barley Straw Pellets will break down faster than the bales, plus they are rich in organic peat which softens pond water, reducing the negative effect of phosphate and generally improving the environment for your fish. Two pounds of barley pellets will treat a 400 gallon pond for 4 months. Last, but not least, and my favorite is the Microbe-Lift Barley Straw Extract. The extract goes to work on contact. Decomposition starts immediately and one bottle is equal to a multiple of barley straw bales.
Barley will not kill algae, but it will prohibit it from growing and help eliminate it from your water garden. When the water temperatures are still cool, this is one product that will immediately go to work for you.