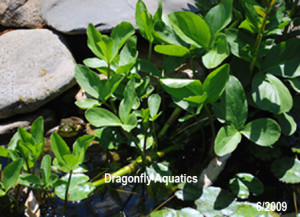 I planted this bog bean last summer and it really has taken hold in the bog.  It provides a nice dense area for the frogs to hid in.  (See if you can find him)   It does best in 1-3 inches of water but will grow out from the margin and float over the pond.  I didn't plant mine.   I just anchored it underwater with the rocks around the edge of the bog and it grew from there.  I already had flowers but didn't get the picture....busy time of the year.  They were pink clusters that opened up to white, star-shaped blooms.  They were about 5 inches taller that the leaves.  They are suppose to be 2-6 inches above the leaves which gives the plant an overall height of 6-9 inches.
Bog bean has a highly fragrant scent and will bloom late May through July but the flowers don't last long.   It needs full sun to partial shade and is hardy is Zones 2-7.  It can freeze solid in the winter as long as you leave it in the water and will come back early the next spring.  You can divide it after it has flowered by cutting off the rootstock.
Its a nice plant for your shallow water along the edge of the pond.
You can purchase bog bean, buck bean, Menyanthes trifoliata here.