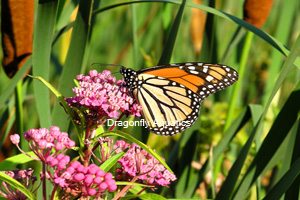 Attracting butterflies to your backyard water feature is easy.  It's another one of  life's simple pleasures that all gardeners enjoy.  Some of the plants that will attract butterflies to your pond are:
"Habitat loss is the leading cause of species endangerment and extinction. Backyards are now playing an important role in wildlife conservation. You can help to reduce the negative effects of habitat loss by landscaping with native plants and turning your backyard into a wildlife oasis."
A wildlife-friendly landscape is composed of four essential items:
1) Food   2) Water  3) Shelter or Cover  4) A Place to Raise Young
Creating a habitat in your own backyard is easy. "Choose native plants to your area, both surrounding your pond and in the pond. Explore a nearby wetland to familiarize yourself with its environmental conditions and plant diversity - the goal is to mimic a natural area.  To provide the best habitat for a variety of  wildlife, choose trees, shrubs, and herbaceous plants with different attributes.  When selecting plants, choose varieties that will provide resources and shelter at different times of the year."
Water gardens are a natural place for attracting butterflies.  Butterflies will first be attracted to your pond by the flowering bog plants, sip on the nectar and then perch on moist rocks and mossy areas to get a drink. I could spend hours on my bench by my pond, watching the different species fluttering about.  If only I had more time to do so!