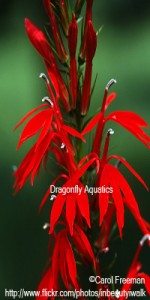 Cardinal flowers are known for their intense bright red flowers, which bloom July through October.  Cardinal flowers grow best  in sun to part shade.  Plant it in  moist soil or water no more than 3 inches deep.  It will spread to about 12 inches.  Hardy in Zones 5-11 but will be fine to Zone 3 with snow coverage.  A hardy bog plant that will come back each year.  It has single stems that can reach up to 3 feet in height with leaves that grow out and up from the stems until the flower spike appears.
This is a popular plant for all water gardens.  Whether you place it in shallow water or along the edges of your pond you will enjoy the intense red flowers when they appear.  It attracts a lot of hummingbirds, dragonflies and butterflies.  A nature loving plant.  I consider this a must have in my water garden and look forward to it blooming each year.
Buy cardinal flowers,lobelia cardinalis,hardy bog plant here.