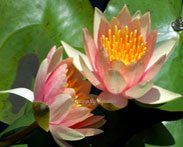 A hardy waterlily that will change from day to day. Some of the flowers will open with yellow blooms and change to red by the third day.  Others open light peach to apricot  on the first day and change to dark pinkish orange or dark peach by their third day.     The changeable waterlilies are suitable for the small to medium ponds and grow well in container or tub water gardens.  The majority of them have a spread of less than 4 feet with their  foliage  consistent from the spring through fall.  All of the changeable water lily varieties have variegated lily pads. The 'Sioux' is considered to be one of the larger varieties. They will start to sprout in the mid-spring and will bloom until late in the fall. All of the changeable water lilies are very prolific bloomers and the flowers are fragrant.
All changeable waterlilies are shade tolerate and most are considered medium in size.  The 'Little Sue' is probably considered the most tolerate of shade while the 'Aurora'  is probably the smallest but the flowers will stay open later in the day and is a good bloomer. 
When planning your water garden choose one of the changeable hardy waterlilies to enjoy.  Watching the transformation of one color to another is truly amazing.