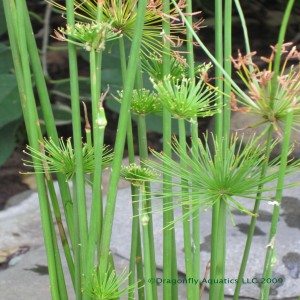 Dwarf Papyrus is a perfect plant for tub gardens or table top container ponds.   While the dwarf is a perfect smaller plant for container gardening or smaller ponds if you have a large pond you might want to stick with the larger variety, Dwarf Giant Papyrus which grows about 3 ft tall.
Our Dwarf Papyrus are really nice plants this year.  Each now approximately 12" high.  This plant is compact with tight tufts of green strands on top of the stems.   Height 12-18 inches and spread about 6-12 inches.  It requires sun to part shade and moist soil or water up to 4 inches deep.
Dwarf Papyrus is viviparous and will grow new plants from the tops.  You can easily winter this plant over indoors as a houseplant in a sunny spot as long as you keep the soil moist at all times but don't submerge the crown.  You would want to keep the winter temperature above 50 degrees. 
Buy Dwarf Papyrus,bog plant here.