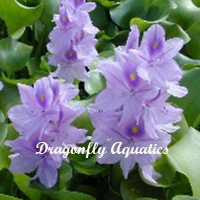 Floating plants such as Water Hyacinth and Water Lettuce are considered tropical and will not survive temperatures below freezing. After the first hard frost,  remove them from the pond to prevent them from decaying and adding unwanted debris to the pond.  
Trying to winter them over indoors is difficult.   They need to be kept in an aquarium or  floated in anything that can hold water.  The problem is they lack adequate light intensity.  They seem to do well for awhile but by February when they start to grow the natural light is not bright enough to promote proper growth. The water temps need to be at least 70 degrees and they need at least 14 hours of sunlight or equivalent to four fluorescent bulbs held about 12 inches over the water.  
When you consider the amount of energy and electricity needed to keep tropical plants alive over the winter its probably cheaper to  just use them for mulch in your vegetable garden and buy new ones in the spring.