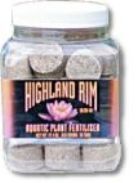 To grow stronger, healthier and better plants in your pond garden it is essential to use fertilizer that has nitrogen, phosphorus and potassium in it. 
Use a fertilizer that has a lower ratio, such as 6-6-6, which is more often better than using a higher ratio.  A higher ratio, such as 20-20-20 can often burn a plant's roots, causing it more harm than good.  You should stay away from using organic fertilizers in ponds, such as bone meal or fertilizer that release their compounds gradually.  These react differently in pond water than they do in soil.  Often a pond owner will use fertilizers that are basically used for perennials, shrubs or trees.  These are not made for pond water and you need to pay attention to the amount of ingredients if using these.  It is best to use only those fertilizers specially formulated for use in aquatic ponds. 
Microbe Lift developed a liquid fertilizer, Bloom & Grown, that is especially formulated for use in ponds.  Highland Rim Fertilizer Tablets or similar aquatic pond fertilizer tablets work great.  When planting your plants just push them down into the soil in the container and it will feed the plant continuously.  It gives the water gardener more control over the amount of fertilizer they use.  You would want to feed more often in the summer during the growing season than in the spring and fall.  
Customers have told me that their water hyacinths often do not bloom.  An idea to give them that extra boost to bloom is take them out of the pond and put them in a separate container and soak them in liquid fertilizer, such as Miracle Grow, for a day or two.  Then rinse them and return them to the pond.  They soak up the nutrients in the fertilized water and this will help them flower without affecting your pond water.  You can do this with other floating plants as well.
If you want more blooms and healthy plants in your water garden add fertilizer.   You can receive more enjoyment from the work you put into your pond by caring for your plants.