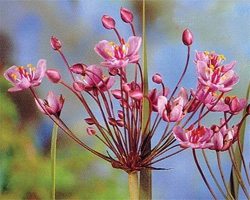 Flowering Rush (Butomus umbellatus) has blossoms that are much more impressive than its foliage, small delicate rose pink flowers.  Graceful long green stems and atop a cluster of flowers.  The flower is about 5" across ontop of 2' to 4' stems.
Flowering Rush usually start to bloom toward the end of spring or early summer.  It may even rebloom in the cooler climates.  It requires sun to part shade and moist to 3" of water.  A very easy aquatic plant to grow.  It is zone hardy to at least USDA Zone 3.  It prefers colder climates and doesn't seem to like the hot, humid weather. 
It is an excellent plant for informal ponds when interplanted with wider-leafed marginals; also grows well in wet spots or a bog area.  If placed with a plant such as, Variegated Cattail or Zebra Bullrush, its stunning.  Its form and texture lend itself well to a natural looking pond rather than a formal one.  The pink flowers pop out amongst the variegated foliage of the cattail or rush.  I wouldn't recommend it for a container plant as the water may get too warm for it.
Fertilize it once it begins to grow in the spring.  Continue monthly with fertilizer until the plant begins to go dormant in the fall.  In the summer after it has stopped flowering is the best time to divide the plant. Dig it up and trim back the foliage.  You want to cut the rhizomes into pieces, each one being about 1" to 3" wide.  Put the plant back into its space in the pond and replant the new just below the soil.  New growth usually appears in about a week.
Buy Flowering Rush,Hardy Bog Plant here.