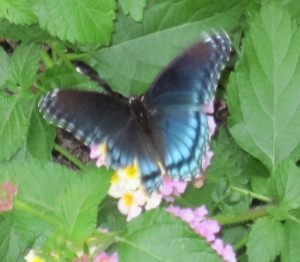 This time of year we all are enjoying our gardens.  Whether it be a pond, flower bed, vegetable garden or just general landscaping its a good feeling to sit back and reap the rewards of our efforts.
I spent hours weeding our vegetable garden yesterday as I had neglected it for a couple weeks.   I can't understand why the weeds seem to grow overnight.  Other than throwing them in the compost what other need do we have for them? 
But I did pick a nice batch of tomatoes.  Now its time to start working putting them away for the winter.  I enjoy canning almost as much as I enjoy my pond.  And there are so many ways to can tomatoes that can be enjoyed all winter long, that is if you don't eat most of them while your picking.....
Then as I was wondering about in the garden I got caught up in the wonders of nature.  I like nothing better than watching the dragonflies, butterflies and yes the bees frolic around the garden.  Its my favorite time of the year.  I tried to get a picture of a hummingbird but they are so quick he didn't give me time to click....