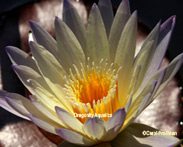 This is one of our favorites!  The 'Green Smoke' tropical water lily is an outstanding color of chartreuse with smoky blue tips.  Its leaves are lightly speckled, bronze-green and the blooms of the 'Green Smoke' are 6-8 inches held high above the water that are platter shaped.It will spread 5-6 feet on the water surface.  This is a good choice for small to medium size ponds.
You can safely place a tropical waterlily in your outdoor pond when the water reaches a consistent temperature of about 70 degrees.  You can stunt the growth or even kill a tropical lily if placed into a cold pond.  It sends the lily into shock, returning them to dormancy.  You should fertilize the lily every two or three weeks to keep it blooming throughout the warm season.
Purchase Green Smoke, tropical water lily here.