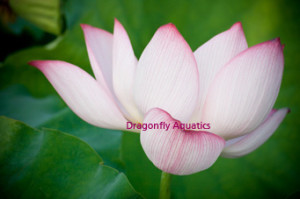 Those who have lotus are now enjoying the sun loving water plant that thrives in hot weather and high humidity. 
The unique lotuses are hardy water plants that can be wintered over even in the coldest of climates.   Caring for your lotus as the season comes to an end is important.  You want to cut back the foliage to the water surface after the leaves have all died and turned brown.  If you cut them back while they are still green, bacteria or fungal infections can reach the underground tuber and can kill the plant.
The care given to the lotus is much similiar to the care of your hardy water lilies, keeping the tubers deep enough in the pond that the ice and frost will not reach them.  It is easier to accomplish this with lotus in a shallow pond than it is with hardy water lilies.  The lotus roots grow at the bottom of the pot, while your water lilies rhizomes are often at the soil surface. 
If you choose not to overwinter your lotus in your pond you can put the pot in a trash bag and store it where it will stay cool, dark and damp.  Making sure it doesn't freeze.