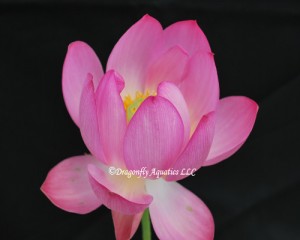 I visited a friend in March this year and she took me over to a house that had a Japanese garden.  It was gorgeous!  I only wish I would of had my camera with me at the time.  He did an unusual thing with his lotus that I thought I would give a try this year.  Among his flower gardens were pots put into the ground with lotus growing in them.  They were just starting to grow but I could visualize just how they would look this summer growing among the other flowers.
He dug holes and put a large no holed container in the hole and planted the lotus in it. It would be a simple thing to do.  You would only need to make sure it had at least a couple of inches of water above the dirt all growing season long.  He said he them pulled the lotus out at the end of the season.  He put the tuber in peat moss and stored it for the winter and each spring would repot it.  He left the containers in the ground. 
I'm going to try a couple this year and when they bloom I'll take a picture and share it.   I'll probably constantly be putting water in mine since I have a Golden Retriever that I'm sure will think its her water dish just as she does with the bird baths I have in the garden.
We have a nice selection of Lotus this year.