I can't say I dislike winter....when it snows everything looks so pretty but then this winter has been pretty nice so far.  Temperatures are in the 50s today and the SUN is shinning.  Unusual for January in Ohio.  The pond is frozen but only a thin layer and the fish aren't moving much although I can catch a glimpse of them sometimes.
So while I continue to knit away the hours I keep thinking about spring.....changes to the pond.....new plants to offer.....what plants are thriving in the greenhouse. When the planting season ends things begin happening in the greenhouse.  With seedlings and dividing of plants there is alot of do to get ready for the following season.  Put on the gloves, play in the dirt,  then watch the plants begin to grow.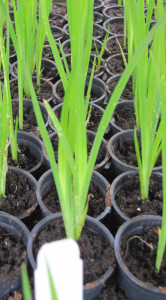 It won't be long and most of us will begin the task of spring cleaning our ponds.  While there is still alot of activity in the warmer climates those of us in the north continue to wait.  Being a mild winter thus far only makes us more anxious for spring.