Its been a crazy pond year so far.  First our weather didn't want to cooperate and get warm but then when the weather started getting warmer we were so busy I didn't have alot of time to write yet alone get my pond going.
We decided to redo our pond this year, again, as my husband would say.   It was a long weekend project but its complete now and with a few minor changes here and there will be so much better than the old one.  Mostly the problem I had with the other one was all the rocks in the pond which made it hard getting in and out.  Pretty slippery....so we decided to remove all the rocks and make the shelf larger and the bottom flat instead of sloped around the edges.  Much easier for getting in and out for the tasks of trimming plants and fertilizing them.  We changed our waterfall to enter from a different angle with a long stream bed flowing into the pond.  Much more tranquil and natural.  This will still give me a nice bog area to plant bog plants in.   Its been a couple weeks and the plants are finally starting to adjust.  Now just need to get the bacteria going to clear it up more. What a difference one month makes!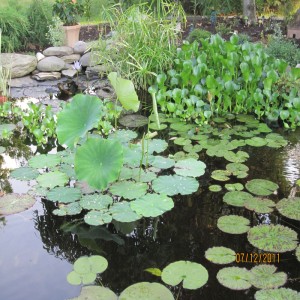 I started this blog a couple weeks ago and then things got busy so now I have updated pictures of the pond and wow did it perform.  Everything is growing well and I must say the plants and fish are happy. The water is crystal clear and the plants are looking so healthy.  I already see a lotus bud on the Mrs. Perry Slocum in just 4 weeks time. Check out my Albert Greenberg.