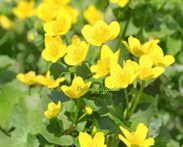 Spring is here and one of the first flowers to awaken in your pond is the Marsh Marigolds.   With dark glossy green leaves, bright and cheerful deep yellow flowers, we get excited by the upcoming flourish of flowers in our ponds.  Marsh marigolds only bloom in the spring but in some cooler climates they may have a re-bloom.  If your summers get extremely hot the leaves may brown and die back but will come back again the following spring.  Mine sometimes re-bloom in the fall but not always.  It all depends how hot of a summer we get.  Hardy in Zones 3 - 7.  Its spread is about 10-18 inches and height around 12 inches.  Plant in your pond no deeper than 6 inches.  It grows well in moist to wet, boggy conditions along the edges of ponds and streams.  Great plant for a bog area or along your waterfall. 
If you want to divide this plant it is best done before the flowers appear in the spring or when the plant has gone dormant in the late summer.  Divide the root clumps simply by pulling apart and replanting.  If you propagate by its seeds you need to do this early summer and they may not bloom until the second year.
Buy Marsh Marigolds,hardy bog plant here.