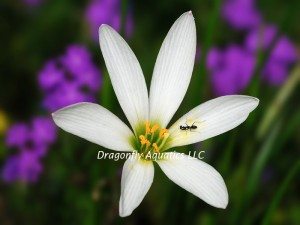 As we get ready for another season, Dragonfly Aquatics is currently working on adding some new plants for the 2010 season. In the upcoming weeks we will be announcing our new plant varieties.
The first we've added are our new Lotus for 2010.  The Penelope and Double Rose.  The Penelope is a pure white lotus and the Double Rose is a pink full lotus.  Both are a great addition to our store.  You can find more information on them on our site. https://www.dragonflyaquatics.com/lotus.html
The newest bog plant we've added this year is the Rain Lily or Zephyranthes candida.  They have six-petaled flowers that are 1-3 inches across with grassy foliage and grow 3 - 10 inches tall.  They grow in full sun to part shade in moist soil or water to 3 inches deep.  They are a tender perennial bulbs and hardy in Zone 8 and up.  They have however, survived in Zones 5 or 6.  You can winter these over by taking them indoors.  Just don't water them until you return them to the pond in the spring.  They go dormant in the dry season and grow and flower in the wet season.
You can purchase Rain Lilies here on sale through end of March, 2010.