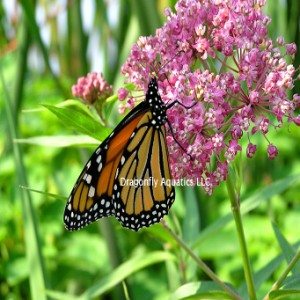 Pink Butterfly Flower is a great pond plant.   Butterflies love this plant and are attracted to its fragrant pink clusters of flowers.   This popular bog plant will grow to a height of 24 to 36 inches tall and can tolerate up to 5 inches of water.  Its foliage is narrow and often turns color in the fall.   It blooms are small and held of top of each stem.  The colors range from lighter pink to a darker rose. 
Not only will this plant attract butterflies but hummingbirds and dragonflies will also love this plant.   This is also a flower that is easily cut to make flower arrangements and to enjoy on top of your table indoors. 
Hardy to zone 3 and will winter over in your pond and requires no special care for over-wintering.   Just leave the plant where it is and don't submerged at the bottom of your pond as you would with some other plants.