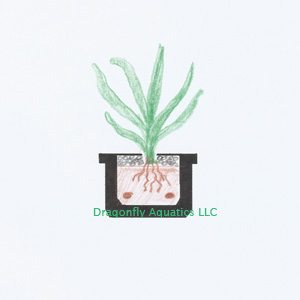 Most bog plants only like a few inches of water above the container they are planted in.  Follow these instructions when planting your bog plants.
Plant the bog plants making sure that you don't cover the crown of the plant.  You want to make a mound in the center of your container with your dirt.  Around the sides of the mound push several of the aquatic plant fertilizer tablets into the dirt.  Place the bog plant in the middle of the pot and let the roots go down over the mound.  Add enough dirt to about 1' below the crown of the plant and then add gravel up to the crown. 
Most of our bog plants that we sell come in a 2" net pot.  Care should be taken when removing the plants from these pots.  Bog plants should only be in water deep enough to cover the pot.  If planting directly in your pond, push the roots with the dirt down in the rocks to stabilize the plant.
Click on the picture to enlarge.