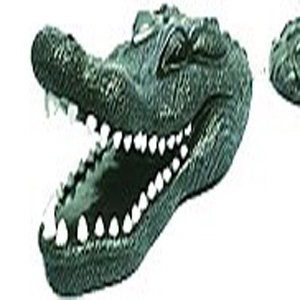 Unfortunately, our ponds exist outdoors and raccoons, blue herons and other wildlife are constantly visiting our piece of paradise. After all, they have to eat too! We have several products to help keep your fish, snails and frogs safe from becoming a gourmet meal for the local wildlife! We will be posting these products in the coming days or call us if you would like specific instruction on how best to deter the varmints attacking your fish!
With spring here and hardly any coverage on our ponds it gives those predators a clear picture of our fish swimming about.  Until we can get some coverage to at least help in protecting our fish these items help.
Check out the gator!