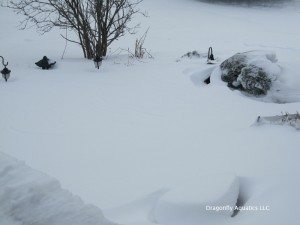 Where is my pond and the fish?   They are in complete darkness probably wondering what happened overnight since yesterday even some of the ice had melted away and I could see the fish.
We just were blessed with 8 inches of snow overnight but who can complain when the East got so much more snow than Ohio.   You have to admit it is pretty even if I'm anxiously awaiting spring as I'm sure most of you are too.
I thought I'd do a series on the different cattails since there are several and each is alittle different.  The cattail is a bold vertical accent for any pond or water garden.  We carry the Common Cattail, Dwarf Cattail, Graceful Cattail, Variegated Cattail and Zebratails Cattail.  
Today we'll talk about the Common Cattail also known as the Typha latifolia, which is the most popular of the cattails.  This cattail we often see growing in wetlands and ditches.  It is used often as water filtration and will add dimension to any water garden landscape.  For those creating a water garden using a natural  filtration system rather than a filter system this would be a good plant for that purpose. 
Its also a good pond plant to add to encourge Dragonflies to your pond since they like to perch on them, especially the juveniles since it gives them a place  to crawl up when they emerge from the water.   To attract the dragonflies you would want to plant them away from fast moving water or waterfalls.  They prefer calming waters.   
 It grows in sun to part shade and does well in moist soil or water up to 12 inches deep and will reach close to 7 feet tall.  It is considered to be a hardy bog pond plant and will survive in Zones 3-11.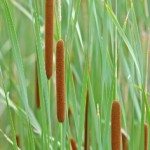 Common Cattail