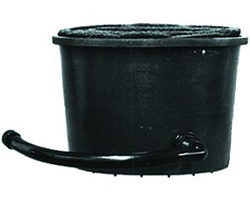 We've covered water temperatures, so what else should we do early spring prior to adding pond plants? We would like to mention a few things you should check when opening your pond for the season.
Check your pond to make sure there are no tears or leaks in your pond liner.  Check around the edges of your pond to make certain the ground has not settled, and your pond is not leaking around the perimeter.  Check out all your tubing, connections, pond pumps and filters to make sure they are all secure and working properly.  If you have left your pump run throughout the winter make sure it is working properly.  And for those who have turned off their pumps, you should check and clean them thoroughly. Turn your pump back on once the water temperatures are consistently above freezing which is around 40-45 degrees.
Remove any debris that has accumulated in your pond during the fall and winter. For those of you that have a pond vac, now is the best time to use those to rid your pond of small unwanted particles.  You can begin putting MicrobeLift Spring and Summer in your pond to help with the cleanup.  MicrobeLift Spring and Summer contains cold weather bacteria cultures that will work in the cooler water temperatures of spring. This will start establishing  good bacteria and help accelerate the break down of debris.  The spring rains help to flush your ponds, so if possible drain some of the water out of your pond and let the rain rinse and fill it up. 
Once everything has been checked out you can begin thinking about feeding your fish, if you have them, and dividing some of the pond plants that have out grown their planting containers.  We will discuss this in our next addition to Here Comes Spring.