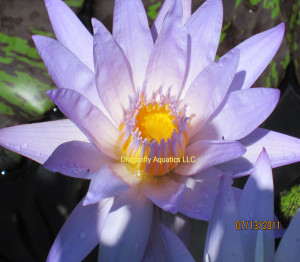 This has been a hot summer so far. Its important if you have fish in your pond that you make sure the water isn't too warm for them. As your water evaporates replenish with cool water. Your fish will be happy!
The tropical waterlilies sure are blooming up a storm in my pond.
The Albert Greenberg's colors are outstanding this year as are the other waterlilies. I'm not certain if its the hot summer days or just that all the pond plants are happy this year. These were all new plants this year since we just redid our pond so other than the initial fertilizing when I planted them, the first part of June, they haven't been fertilized since. I best get to that so I get as many flowers as possible before summer is over. I know tropical waterlilies last only during the summer but I seem to enjoy them more than the hardy waterlilies because of their colors.