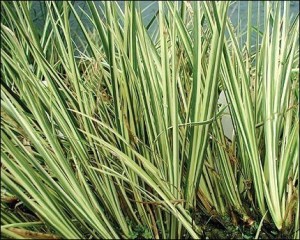 Sweet Flag is a great plant for streams and filters or planted around your ponds edge.  It grows to 1-4' tall and is hardy Zones 4-11.   It's neat, clear appearance enhances your water feature.  The regular variegated sweet flag provides an upright, architectural accent and the dwarf size has a graceful, arching appearance.  There are flowers that appear during the summer that are cone-like and appear about one third to halfway up from the base of the foliage sometimes being difficult to find and often go unnoticed.
Sweet flag grows well in sun to shade and requires soil that is constantly moist, and doesn't like alot of water over their crown.   It will tolerate freezing temperatures and even can freeze solid providing they remain in the water while frozen.  Your dwarf sweet flag will keep its foliage throughout the winter where the regular sweet flag will lose it foliage during the winter.
Another great evergreen type water plant that adds a clean appearance to your water feature.
Variegated Sweet Flag, dwarf variegated sweet flag found here on our site.