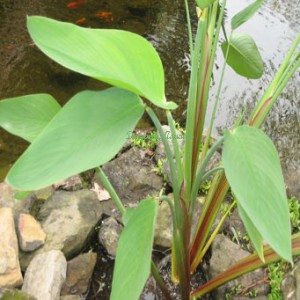 Thalia dealbata is a hardy bog plant that flowers in July, August and September.  On top of the narrow powdery blue colored spikes appear rich purple flowers.  It is hardy and will winter over in colder climates, to Zone 5 with no special protection.  Thalia dealbata will grow in sun to part shade in moist soil or water to 6 inches deep.  It can spread to about 24 inches and a height of 2-6'.
This picture was taken in my pond a couple years ago when I first planted one in my bog area. Click on the thumbnail image to see a larger image of this beautiful plant!
Buy Thalia dealbata, hardy bog plant here.