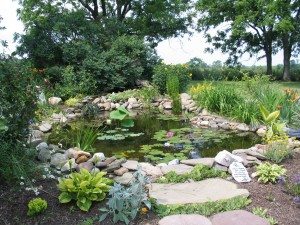 Adding beneficial bacteria is essential for the water garden and seeding of pond filters. Once established the bacteria lives by eating fish waste and other organic matter in the pond. Bacteria converts ammonia into nitrites which are then converted  into nitrates. This process known as the Nitrogen Cycle is an important part of water maintenance. It is essential to the health of your pond inhabitants.
When cleaning your filter pads, lava rock or bio blox, care should be taken as to not kill the beneficial bacteria living there. Never use chlorinated water to clean filter pads, or if it is necessary to do so, try to stagger cleaning different pads at different intervals. Rinsing the filter media  in a bucket of pond water will allow some of the bacteria to remain alive. We recommend adding beneficial bacteria after cleaning, and monthly to keep a thriving colony of bacteria in your filtration media. Bacteria is available in either liquid or dry.
Microbe-Lift  makes a bacteria for each season. Each is formulated to work in the water temperatures of spring, summer and fall/winter.  Microbe-Lift Spring/Summer Cleaner is a seasonal approach to the proper organic balance in your pond. It contains cool weather bacteria that will help to jump start your pond to a healthier environmentin the spring. Once the water temperatures have reached above 55 degrees, Microbe-Lift P/L (liquid bacteria cultures) or Microbe-Lift Tac (dry bacteria cultures) can be added. Both are specially formulated for water gardens to promote clean, clear pond water. Adding bacteria to your pond this season will significantly improve water quality and appearance.