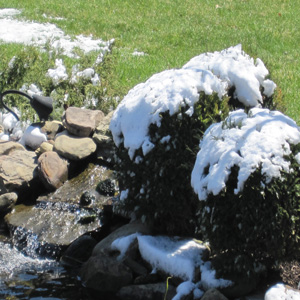 This is what some of us in the North woke up to this morning, and this was after some of it had melted.  What happened to those 50 and 60 degree days???  Hopefully they will be back again soon.  How can we get started cleaning our ponds and thinking putting those new plants in if the water is too cold to put our hand in it.  And what about those fish and frogs???? They are hiding again.
Whenever this happens, those of us who wanted our plants shipped thinking its finally warm wonder, now what do I do with them.  Make sure you protect them by bringing them indoors until it warms up.  Remember most of the plants have been indoors in a greenhouse environment and shiver even when the temps are in the 60s.  But we need to make sure the water temperature have stabilized to 65 degrees before we put those floating plants out.  
The floating water plants in your pond need to have the water temperature reach 65 degrees.  They will show signs of yellowing leaves and black spots on their leaves if left  in water temps below that.  The water lettuce will wilt and turn white if too cold.   We tend to get anxious in the spring and sometimes put floaters in before the water is warm enough.  Even the lotus and waterlilies need the warmer weather to start growing.  But at least those were outside all winter and were pulled to ship out. 
Hopefully, like last year, this is a short spell and in a couple weeks things will turn around and we can once again start looking forward to enjoying our ponds.