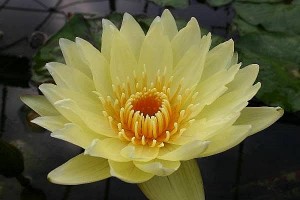 We've been so busy taking orders and shipping orders, we just haven't had time to write on the blog as we should.  It has been a whirlwind of a spring so far.  Those in planting zones 8 on the west coast  have had an usually cold spring and should have had their plants in a month ago.  But thanks to good old mother nature, they are still waiting  for their normal warm temperatures.  Hopefully things have finally warmed up.  We held up shipping their plants and it became a daily routine of checking their 10 day forecast to see if they could climb out of the 50 degree weather they were experiencing.  That was their high!  For those of us in the lower planting zones, we should be able to begin putting our plants in the pond, mother nature cooperates  for a couple days and then slips in a few fridgid night time lows in the 30s and 40s.  What do we do?
Just remember, we need to play it safe and make sure the weather is going to cooperate and keep our new plants protected from the cold.  If we put water lettuce in too early, the leaves will turn from their nice green to white.....water temperatures too cold.  Water hyacinths turn brown......again too cold.  Play it safe with your newly purchased plants and if you think the weather is still too cold,  put them in a container and keep them indoors for a few days.  If it is warm during the day, go ahead and place them outside to get the sun.  I would rather play it safe and protect the plants, then to take a chance of them dying and having to replace them. We do our best to ship the plants when it is safe for you to put them in your pond. We watch the weather highs and lows across the nation and try to ship the plants accordingly. Unfortunately, those cold fronts coming down from Canada, make it somewhat difficult to second guess Mother Nature!
Next month hopefully we will all be sitting by our ponds thinking how nice everything looks and forget about the crazy spring we just had.