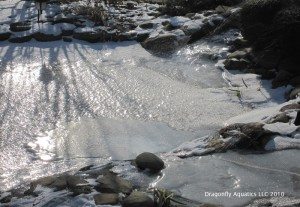 I almost can visualize the thawing of the ice.....even if its only 12 degrees this morning.  Today a heat wave, yesterday morning it was only 3 degrees.  But its February now so we can all start thinking about spring.  When the pond is frozen I always wonder what those little fish are doing under there.  There have been a few days this winter when the ice started to melt and the fish were near the top checking things out.  It wasn't long and they disappeared again probably thinking its just too cold yet to go up there.
I start getting anxious in February for spring to arrive and like many of you probably start thinking about what I want to plant this year.  We've been pretty lucky so far this winter in Ohio.  It seems the snow keeps wanting to go south......lucky for us but not so lucky for those in the south. 
We have alot to share this year and are really excited about our pond plants so let's all start thinking SPRING and visualizing those water lilies floating on our ponds and the fish waiting at the edge of the pond for their treats.  It won't be long now.